- We Have a New Name! 
Hello to all of you listeners and musicians out there! Welcome to the new year, which is starting 
out with a bang for our record label as we usher in 2017 with a new company name; henceforth,
Relaxing Music World will now be known as Relaxing Music World Artists ( RMW Artists, for  
short). In a very fundamental way, we feel that the transition to our new name better reflects the  
collective nature of our ever growing team of talented artists. We may have changed our name,  
but we remain as committed as ever to helping gifted musicians to bring their music forth into

the world via the online digital medium!
– New Artist Spotlight: Jeanette Alexander 
We are very pleased to announce the arrival of Jeanette Alexander as the latest artist to join our 
RMW Artists collective. A genuinely gifted pianist with an innate flair for composing beautiful 
melodies, Jeanette enjoyed a fruitful music career in the Seattle area before moving to San 
Diego several years ago. She has recorded three highly acclaimed album projects to date ( Still Point, 
Open Sky and Walk In the Sun), which have won multiple awards for Best Instrumental Album 
and Best Instrumental Song. As a composer, Jeanette has also scored music for the award winning 
documentary "Honor Denied", which premiered at the Tribeca Film Festival in New York and 
was subsequently featured at festivals in Hawaii, Palm Springs and Newport Beach. Welcome to 
our collective, Jeanette; we are tremendously excited to collaborate with you and your outstanding 
body of work! 
 
– Latest Release!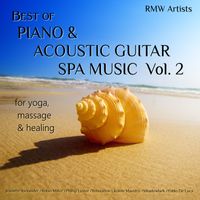 Our most recent compilation album is a beautiful collection of piano pieces combined with 
acoustic guitar compositions which features music from six of our artists. 
This latest release is entitled " Best of Piano & Acoustic Guitar Spa Music, Vol. II", and the album 
is noteworthy in that it marks the debut of Jeanette Alexander's piano music on an RMW Artist's 
album. Her performance, studio recording quality and songwriting are all exquisite, and the 
collection will undoubtedly become an RMW classic. Excellent contributions from Robin Miller, 
Phillip Lester, Pablo De Luca, Meadowlark and Relaxation Ukulele Maestro also round out the 
album, and we invite all appreciators of fine instrumental music to experience our latest release! 
 
– Special Thanks 
We wanted to take a moment to acknowledge the unique contributions of one of our artists, 
guitarist Phillip Lester. Over the last several years, Phillip has consistently been one of our top 
selling artists, and for good reason. As a highly trained classical guitarist, Phillip's playing sounds 
so effortlessly precise that most listeners have no idea how technically proficient he truly is. It's his 
interpretation, though,of the classics that really sets him apart. With a combination of arranging 
skills and an intention to create an atmosphere of tranquility, Phillip's renditions of famous 
classical pieces transport the listener to a serene place that offers respite and rejuvenation. We are 
honored to work with his music! 
On a personal note, Phillip was also one of very first artists to join our label. He believed in our 
collective before it even existed; and his vote of confidence, along with his musical contributions, 
helped to breathe RMW Artists into reality. Thank you , Phillip, for all that you have done !